Let us nourish you and your loved ones for your special occasion or business event. Prepared with Lots of Love and healthy ingredients, Chubby Vegan cuisine will liven up any space with its homemade comfort food options. Good Food and Good Vibes for All!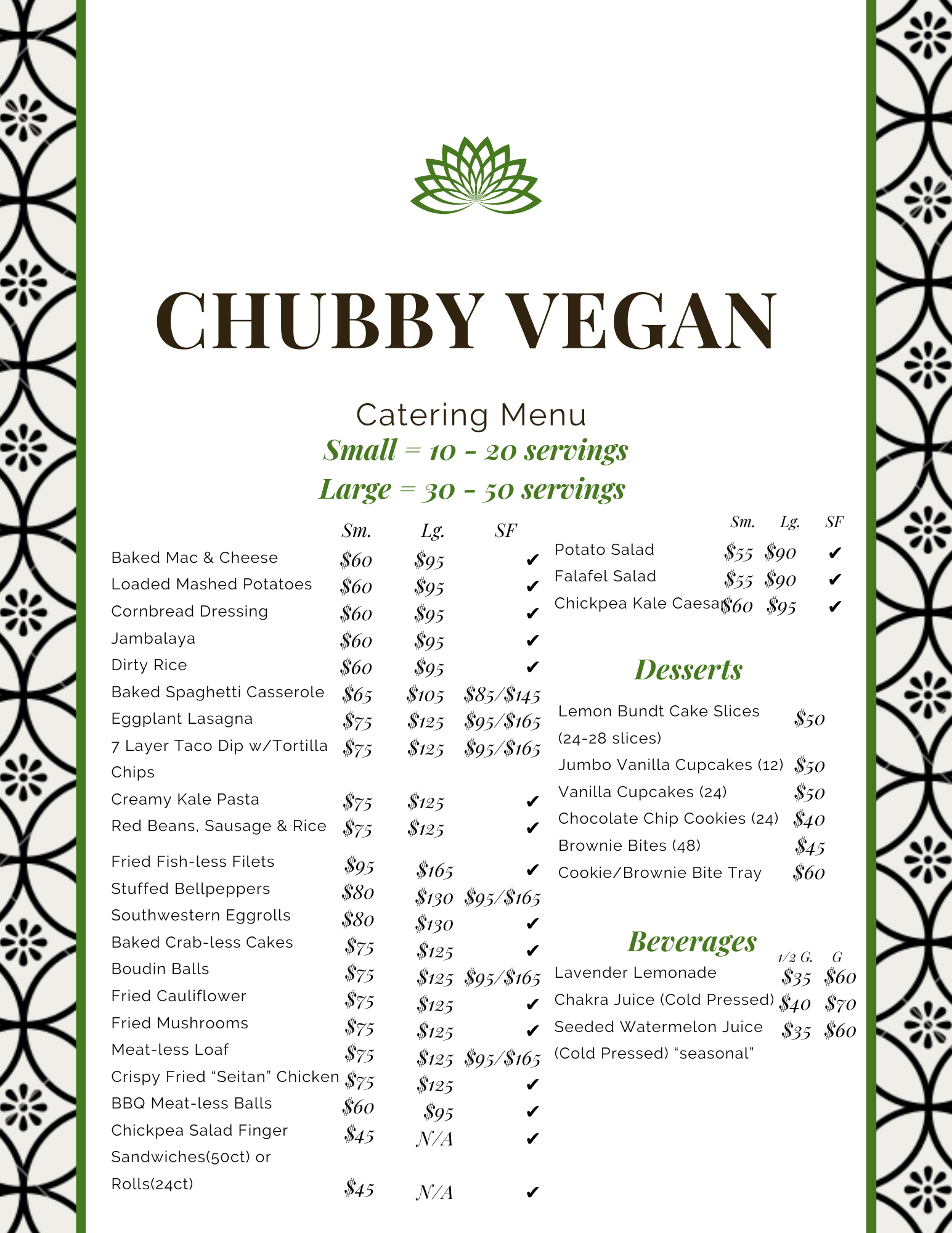 BOOKING POLICY

All catering inquiries will be responded to within 48 - 72 hours of receipt of the inquriy.
To place a catering order, review the catering menu, email us with the date, time and location of your event, specify the menu options you'd like to order, size and the quantity of the item.
An invoice/contract will be issued to you via email once an estimate is finalized.
Catering estimates will expire one (1) week from the initial date sent.
All invoices are due for payment upon receipt of the invoice. Invoices will be canceled if payment or deposit not received within 24 hours.

A 50% non-refundable deposit is required to book your event.
Full payment is due for events booked one month or less prior to the date of the event.

Orders are considered booked if a deposit has been paid. No deposit, no booking.

Taxes are applied to all invoices
For private dinners, 18% gratuity/service charge is added.
Once the menu has been decided, upgrades will be allowed up to 4 weeks before the event.
RUSH FEES will be applied to orders booked within 72 hours.
Orders under $500, a $100 rush fee will be applied
Orders over $500, a fee of 25% of the balance will be applied
CANCELLATION: Any loss of income resulting from cancellation or breach of financial contract by the Client will be subject to the following penalties from the time Chubby Vegan, LLC receives WRITTEN NOTIFICATION or fails to meet financial conditions:
NO REFUNDS. The client is responsible for the remaining balance which will be due immediately. Date changes are allowed considering the date and time are available.
Cancellation 61 or more days prior to scheduled event/order, Date of paid invoice/signed contract: 50% of the remaining balance is due by Client.
Cancellation 60-31 days prior to scheduled event/order, Date of paid invoice/signed contract: 75% of remaining balance is due by Client.
100% event/order fee is due by Client if canceled within 30 days or less prior to the date of event/order.
Any events canceled the month, week, or day of the event, will not be able to reschedule the event and is subject to a total loss. NO REFUNDS.
WRITTEN NOTIFICATION must be acknowledged and approved by Chubby Vegan, LLC to confirm cancellation.
​
​ Thank you for your business!